Chiropractic services are organized around the fact that the human body, under the control of the brain and central nervous system, is self-healing and self-regulating. Under normal circumstances, your body is constantly repairing and building itself. However, with stress, injury, illness, or other life factors, you may experience problems. Regular chiropractic care can remedy that and keep you feeling your best.
There's no way around it: Everyday living presents stressors we have to deal with. For example, you may experience physical stress from exercise or your job, mental stress from schoolwork or parenting, or environmental stress due to pollutants in the air. 
When your body's overall ability to adapt to stress is exceeded, this interferes with your ability to function at an optimal level. In chiropractic care, we refer to this nerve interference as a "subluxation." Left untreated, subluxations adversely affect your health and can lead to musculoskeletal, neurological, vascular, metabolic, and mental/emotional issues. 
Chiropractic care is a safe and effective therapy for improving and balancing neurological function and maintaining optimal health. Regular chiropractic adjustments reduce or eliminate subluxations and reset your nervous system function, effectively restoring your body's ability to care for itself.
Benefits of Chiropractic Adjustments
The most common reason people visit a chiropractor is for musculoskeletal issues; however, many of our patients have reported a wide range of systemic improvements after chiropractic care, including:
Relief of neck and back pain
Improvements in digestion
Reduction in tension and stress level
Quicker recovery from illness and surgery
Improved sense of well being
What to Expect During a Chiropractic Adjustment
The primary goal of a typical chiropractic treatment is to find nerve interference or subluxations and reduce or eliminate them to support normal healthy function. A chiropractic adjustment can be done by hand or with a variety of different instruments. Adjustments are typically not painful. In fact, most patients find the experience enjoyable and relaxing.
Chiropractors usually focus on the misalignment of the spinal column. However, a subluxation is technically anything that keeps you from functioning at your peak. Therefore, depending on the patient's needs, chiropractic adjustments may be administered to virtually any area of the body where normal function is diminished—whether that be the spine, feet, ankles, knees, wrists, elbows, shoulders, jaw, or the skull. Chiropractors may also make dietary and lifestyle adjustments as well.
The greatest benefits of chiropractic care are achieved when a patient comes in consistently. When someone is beginning chiropractic care, they may need to be seen more frequently during the initial healing phase. This is because—much like working out at the gym—each visit builds on the one before. Once the acute symptoms subside, the frequency of visits typically decreases.
Dr. Dave McCann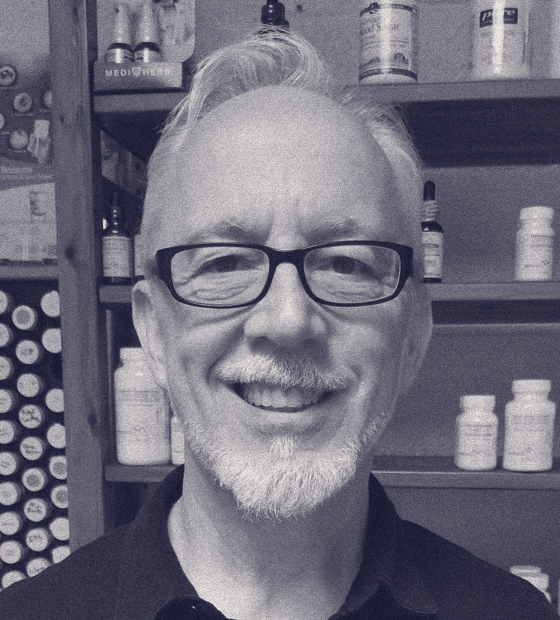 Dr. Dave McCann
Dr. Dave McCann, D.C. (Clinical Director) was born and raised in Alton, Illinois. The youngest of three boys, he was the first in his family to graduate from college. While working in the Clinical Engineering department of Barnes Hospital in St. Louis, Missouri, his pursuit to find his passion came to a somewhat comical crossroads: go to Barnum and Bailey's Clown College or attend Logan College of Chiropractic! He chose the latter and graduated with honors from Logan College in 1997.
Dr. Dave has a love for community theatre and recently received an award for Best Supporting Actor in a Minor Role for his role as Gonzalo in Shakespeare's "The Tempest" at the Coronado Playhouse. His interests also include science fiction, metaphysics, and music. However, his greatest joy is spending time with his wife, Colleen, who is an amazing healer in her own right.
Clinically, Dr. Dave's background in engineering has prepared him well with a systematic, yet highly creative, approach to working with the human body. In addition to being an extraordinary chiropractor, Dr. Dave has a passion for nutrition, epigenetics, and functional lab assessment. His extensive study of Applied Kinesiology (AK) gives him an excellent knowledge of the muscular system and how it relates to not only the skeleton but also the organs and energy meridians of the body. By coupling lab results and Functional Genetic Testing with AK, often referred to as "muscle testing", he discovers the hidden causes of dis-ease in his patients.
Dr. Dave's humor and compassion go far to creating a healing atmosphere for anyone fortunate enough to be on his table.
Dr. CJ Jarvis
Dr. CJ Jarvis
Dr. CJ Jarvis, DC believes in an integrated approach—blending soft tissue work, functional movement screening, and chiropractic adjustments to provide the most efficient treatment possible to obtain patient goals of care. She utilizes Diversified adjusting techniques, drop table, activator, and extremity adjusting. She is also trained in Active Release Technique (ART), as well as Rocktape FMT Basic.
As a San Francisco Bay Area native, Cj acquired her doctor of chiropractic degree from Life Chiropractic College West where she graduated magna cum laude. She did so after she received a bachelor's degree in Kinesiology with an emphasis in sports and exercise science from Temple University in Philadelphia.
As a lifelong athlete—whether it's soccer, Muay Thai, lifting, or even Scottish Highland Heavy Athletics—she has always been passionate about optimizing functionality of the human body, and is committed to taking into account all aspects of health to best serve her patients.
How Our Patients Are Healing from the Root Cause
"
"I remember after seeing Dave for my initial consultation I left with a feeling of being cared for and hope that my situation would improve. Not only did it improve, it has healed. No more surgery needed. I've suffered from digestive issues, anxiety, sleep troubles, aches and pains caused by the physical demands of my profession. Dave has helped me with ALL of it. The quality of my life has vastly improved as a result of his care."
Danielle S. on Yelp
How Our Patients Are Healing from the Root Cause
"
"Dr Dave is nothing short of an Angel. He helps with my back pain, has solved my shoulder pain, and s always reminds me to care for myself on an emotional level. Get in there ASAP."
Rebekkah B. on Yelp
How Our Patients Are Healing from the Root Cause
"
"It's hard for me to express how much Dr. Dave means to me and my family. He has met us every week with compassion and patience."
Elizabeth F. on Yelp